Private LGBT Counselling.
Dean Richardson – specialising in LGBT Counselling.
Fortunately, fewer counsellors nowadays decline to work with LGBTQ (e.g. for personal and/or religious reasons), yet the number of private, regional counsellors who actually specialise in working with gay, lesbian & trans* clients are remarkably few…
…but then there's Dean Richardson MNCS(Accredited Registrant), in Portsmouth, a counsellor who specialises in counselling for LGBT: Lesbian, Gay, Bisexual, Transgender & Questioning Individuals.
Practising since 1999 working in Hampshire, Dean Richardson set up his private Portsmouth counselling practice in late 2009 to specialise in working with gay / lesbian / trans*/transgender/transvestite and bisexual clients in counselling.
Dean offers three primary services in his practice in Portsmouth (PO5, 4 miles from M275 J12):
… these LGBT-therapy services are available to anyone in Waterlooville to Portsmouth, Southampton to Chichester, Fareham, Gosport, Hayling Island, Havant and Petersfield.
Specialist LGBT Counselling for Hampshire & Skype Video.
Counselling focused specifically on lesbian, gay, trans* and bi clients isn't just about understanding an LGBT-lifestyle and same-sex life-choices. For one thing, a counselling speciality involves an understanding the language characterised by LGBT lifestyles ("BDSM", "PEP", "CBT", "S&M").  It involves knowledge of appropriate LGBT psychological-related studies, as well as having a reliable core psychotherapeutic framework that's appropriate for the therapy being sought.
By choosing Dean Richardson – offering LGBT-specialist counselling in Hampshire – you're beginning to tick the right boxes for gay people with specific therapeutic needs.
Why Consider a Specialist LGBT Counsellor?
The following are just just some of the reasons why choosing Dean as your Specialist LGBT Counsellor for same-sex relationship- or simply individual- needs is worth considering.
Whilst it's accurate that most therapists in Hampshire could work with most clients in the local areas, LGBT people sometimes seek counselling from a specialist LGBT private counsellor for specific reasons.
Perhaps not least is to seek a sense of assurance that the counsellor understands and empathises with LGBT social, sexual & community conduct and that this type of  counsellor is sought after to convey the sense of understanding to the LGBT individual or couple that is sometimes not experienced from a generic-practice counsellor.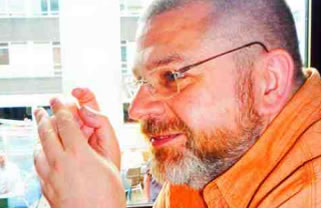 Within many therapies, the idea of the "therapeutic alliance" is an important concept.  In its basic form, it is the relationship between client and therapist where the therapeutic work is achieved, regardless of the therapist's technique or the therapist's model or level of skills. Part of this alliance is based out of trust: the therapist has to prove they are someone who can be trusted, and sometimes this proof is required during the most very difficult parts of the therapy work.
Whilst there is therapeutic benefits in an LGBT client imagining that a specialist LGBT counsellor will immediately be understanding & trustworthy, I would suggest that it is the qualities of the therapist who handles this imagination that is paramount during the initial part of the therapy. Yet, an LGBT-specialist counsellor can still offer an empathic understanding of the client or couple's real world that other therapists may not be able to.
[tabs slidertype="left tabs"]
[tabcontainer] [tabtext]LGBT Couples Counselling[/tabtext] [tabtext]LGBT Individuals Counselling[/tabtext] [tabtext]LGBT Support Groups[/tabtext] [tabtext]Online LGBT Skype Counselling[/tabtext] [/tabcontainer]
[tabcontent] [tab]
LGBT Couples Counselling.
When gay, lesbian or mixed-orientation couple relationships suffer conflicts & breakdowns and partners wish to engage a professional to help them understand what may be going on, LGBT couples may prefer to work with someone who is also member of their own sexuality group.
Couples choose counselling due to experiencing a negative recent event, or one from years ago, infidelity, mistrust, life stages, birth, ageing, death, wishing to separate and so on. Some relationships struggle to manage certain conflicts.
The counsellor is a neutral participant who doesn't impose solutions. Instead he offers observation, curiosity and therapeutic hypotheses about the relationship's behaviour – and invites the couple to take on similar acts to help perturb the unsatisfactory behaviour.
In aiming to help the couple help themselves in understanding what's going on in their relationship, the couple can teach themselves  to become unstuck and move through relationship problems. With new information a couple can notices differences and use these to make changes (by themselves) for the better.
[button color="lightblue" permalink="2667″] Click to learn more…[/button]
[/tab] [tab]
LGBT Individual's Counselling.
Whilst it's true that a gay, lesbian, transgender, bisexual or "questioning" person  may be able to work with most any counsellor, some LGBT individuals choose to work on personal matters with a counsellor who also identifies as a member of the individual's sexuality group.
All sorts of  LGBT&Q individuals come to counselling for all sorts of reasons.  Those experiencing a negative recent event, or one from years ago, unexplained behaviour, infidelity, mistrust, life stages, relationships, ageing, death … they all have an impact on an individual's life – and counselling is there when you have temporarily lost your ability to manage on your own.
The topic of your sexuality may not be the focus of your counselling and this is perfectly natural.  Sometimes the LGBT client simply wishes to talk about particular struggles in their life without feeling as if they have to explain their life choices or define their choice of words for their counsellor to understand.
[button color="lightblue" permalink="3030″] Click to learn more…[/button]
[/tab] [tab]
LGBT Support Groups.
Sometimes, joining a therapeutic support group can help the LGBT individual recognise that they're not struggling with their problems alone.
Groups not only discuss problems similar to each group member, but can also discuss "non-problems" (i.e. by the group discussing matters that are not the individual's problem, the group can helpfully demonstrate life-management skills that are different to an individual's personal difficulties).
Groups can be homogeneous (all members share similar personal-problems) or heterogeneous (members exhibit different problems), a closed group (the group starts with the same members that it finishes with) or open (the group allows new members to join and others to life during the life of the group).
Dean Richardson's support groups can either be created "On Demand" – (a minimum of 4 & maximum of 8 participants are required  for a new group) or, if a suitable open group is already running, you may be able to join an existing group.
[button color="lightblue" permalink="2645″] Click to learn more…[/button]
[/tab] [tab]
Online LGBT Skype Counselling .
Sometimes you find your ideal counsellor … and he works 100s of miles away from you. Fortunately, you can access Dean Richardson's LGBT counselling services online using your camera-enabled computer or Smartphone … with Skype.
Simply install the free Skype software, and you can engage in counselling sessions with Dean using video conferencing.
Online Counselling for LGBT long-distance Couples.
Gay & lesbian couples who are in a long-distance relationship can also make use of Skype Couples Counselling. Dean subscribes to the Skype Group Video service on your behalf so that both of you – along with Dean – can see each other simultaneously through Skype.  Even for couples in the same location, using two computers can be helpful – as everyone sees the other two people on their screen.  Dean's Online LGBT Skype Couples Counselling services is also suitable for couples of mixed-gender & mixed-sexuality (e.g. gay male and straight female intimate relationship).
What's Skype Counselling like?
Initially some people find video conferencing a little unusual, but a handy tip is that if you maximise the video window, looking at the computer soon feels as if the people on screen are in the same room as you.
Want to work with Dean, but are unable to get to his Portsmouth location?  Consider Skype for Online LGBT Counselling.
[button color="lightblue" permalink="2950″] Click to learn more…[/button]
[/tab] [/tabcontent] [/tabs]