Begin counselling the easy way.
Hello! My name is Dean Richardson. I am a qualified & experienced counsellor working in private practice in Portsmouth & Southsea and online via Internet Video (Skype, Google Hangouts).
I'm a registered & accredited member of the British Association for Counselling & Psychotherapy [look me up here], and I've been counselling (individuals, couples & small groups) since 1999.
I understand that people who have never experienced counselling before may be confused or anxious about how to begin meeting with a counsellor. Some people are told
"…go and see someone professional"
and some choose to seek counselling themselves. These people – like you – might be concerned that they'll be tied up into counselling for years, might be thought of as being a bit 'crazy' by their friends and family, or they might worry that they'll be told they're more "ill" than they feared.
I'll help you to put aside those concerns.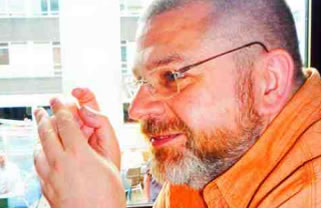 Starting counselling with me means that you can feel in control of your choice to start counselling (and how it ends, too).
I will assist you in making an informed decision ~ whether about working with me, or counselling in general.
So, let me describe how you could start counselling with me in five simple steps…
---
Five Steps to Beginning Counselling.
Decide what kind of counselling you might be interested in. Session fees will depend on the type of counselling (and may be effected by your income) … [learn more here…]
Choose an appointment date and time  … [learn more here…]
Contact Dean (either using this form or by replying to his email if you've already begun a correspondence) … [learn more here…]
Send the deposit: when Dean and you agree on the first appointment, the date/time will be reserved for you & you'll send a £30 deposit (using any of these payment methods) … [learn more here…

]

Your first appointment is confirmed when the deposit is received and the day/time is agreed.
 All counselling appointments are 50 minutes long (couples can choose 90 minutes after discussing with the counsellor) and appointments start on the hour.  
The first appointment is where you can begin to talk about what you need from counselling, Dean can talk with you about how counselling can (and can't) help, and both of you can make an informed decide together if further counselling sessions would be helpful.  
You don't have to return for further sessions after the first one if it doesn't feel right to you, and there's no obligation to continue with counselling past the point where it's helpful.
---
Decide which Counselling.
As a counsellor qualified and experienced in different counselling services, I offer a number of different therapies using different methods… but you don't need to worry about that at this stage. Let's start you off with deciding who is coming into counselling.
Individual Counselling: this is for people who want to come into counselling on their own to tackle personal matters.
Couple Counselling: this is for two people whose relationship is in conflict.  This could be an intimate couple, a friendship or a business relationship.
Small Group Counselling: this is for groups of 4 to 8 people.  You might want to join an open-group as an individual, or might want to come as a pre-formed group (such as a polyamorous relationship).
Choose an Appointment Day/Time.
The day and time that we agree to meet for our first appointment is automatically reserved for your exclusive use on subsequent weeks… this is done without obligation on your part.
Counselling with Dean is a weekly commitment: same day, same time, same location & same counsellor (technical bit: this comes from psychoanalytic rationale developed way back in the 1960s, conceptualised independently by Bion and Winnicott).  In short:  if you decide to continue after the first session, your counselling appointments are automatically reserved for you and no-one can intervene into your appointment times.
For those who work shift patterns, you can discuss being creative with appointment times – but you will still be looking at trying to make a weekly commitment.
Dean's currently available appointments are listed on the right hand side. Other appointments become available from time to time – and if you would like to reserve a day/time contact Dean.
Contact Dean Richardson.
When you contact me you're not committing to anything at this stage … you're just making an inquiry about counselling & saying hello. Use my handy Contact Form to start things off.
What Happens after you Contact Dean.
I'll answer your questions as best as I can.
I'll help you try to decide what sort of therapy you might want to try.
I'll leave the decision to continue (or not) totally up to you … I won't contact you to chase you up or put any pressure on you.
Arranging a one-off counselling session.
Once we've begin emailing/telephoning, we can talk about meeting for a first session.
The first session gives us time to have a conversation.
This first session will be for 50 minutes, on a mutually convenient day and time … and at a location we've agreed (eg Portsmouth or online via Skype).
You won't be committed to any more sessions – the choice to continue working together … or not … will be between you and I.
Payments and Fees.
Private counselling is not free of charge. Fees are listed on a separate page here. When Dean has spaces available, he can offer private counselling to people on a restricted income – and you must work out how much you can responsibly afford for private counselling sessions details here. As a professional service, Dean accepts different forms of paying including cash, cheque, credit/debit cards payments in-person, and credit/debit card payments online  details here.
What happens in your first counselling session?
This isn't part of my five steps really, but I thought you might like to learn what the first counselling session might be like. We'll have a conversation for fifty minutes and we'll try to include as much of the following:-
We'll talk about confidentiality & what it means to our counselling relationship.
We'll do a little admin (eg some history and contact information) and we'll talk about fees.
We'll assign the majority of our time for you to tell your story to me.
I'll consider (from a number of approaches) what might be helpful interventions (e.g. a question that might help you think about your situation a little more) and I'll see how you respond to what I say.  This isn't a test and the things I put to you will be of a conversational nature rather than "fill out this form and I'll mark it".
We'll see how well we work together during this session and if this sense might be telling for future sessions (e.g. did something come up that we might have to work through together, and do we think we might be able to).
We'll talk about if continuing to meet together might be helpful, and how we might decide when enough is enough.
We might talk about a referral to another therapist – in the (sometimes, but not often) situation where we think we ought not to work together 
By the end of this introductory session I would hope that everyone (you, your partner, your group, everyone who participates … and I) could make an informed decision together about if meeting for counselling (with me) would be helpful. If we can't make a decision we can arrange to discuss things further if you choose.
Deciding to Continue Counselling… or not.
After the first session – sometimes after the first few sessions if you're not sure – we will make a decision if continuing to work in counselling seems to be the right idea. If you do wish to continue working with me then pretty much all the things are in place.  We will arrange to meet weekly at the same place, same day and same time each week.  We'll also talk about how we finish counselling – you won't be committed to a minimum or maximum number of sessions past what you (your partner, or group) need. If you don't wish to continue working with me then we can say good bye … or even discuss referring you to other therapists who I think might be better placed to help you.
Was that easier than you'd expected?
Starting counselling may feel scary and you might think you're getting into deep water … but it's my intention to make sure you're fully informed about what you're getting into, so that you can make a sensible-enough decision for what you need right now. No pressure. No forcing you to do anything you don't want to do. [button style='float:right; margin:0 0 10px 10px' type=icon icon=mail permalink=2670]Contact Dean Today…[/button]Want to learn more?  Try my Frequently Asked Questions page. What would you like to do now?